WHY CHESS FOR CHILDREN?
Chess ignites intelligence!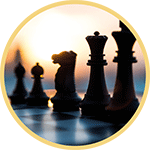 Chess is an intellectual and popular sport played over 196 official federations around the world.
It can be played indoors and also online - no physical contact required between the players.
Students who learn chess perform better in academics primarily due to the improved ability to concentrate.
Playing chess improves their IQ and exercises both sides of the brain.
Chess teaches them about planning, strategizing, and time management..